Do you or someone you care about

struggle with hoarding?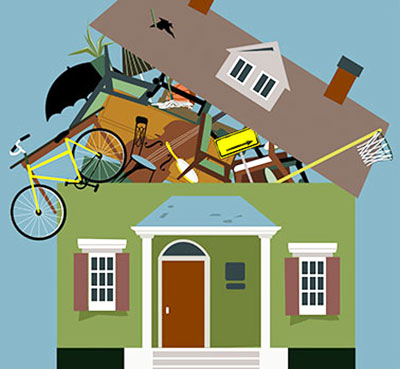 I know from personal experience how debilitating hoarding can be. I'm Joe, and I'm the owner of EarthWise. Caring for a very dear loved one who struggled with hoarding taught me a lot about how to handle these types of situations. No matter how bad you think your situation is, it is not hopeless! EarthWise can help.
Please believe me when I tell you that you have no reason to be embarrassed and please trust me when I say we have seen it all.
There are many companies who claim to be "hoarding experts". I'm not going to say that they aren't, but I will say that many companies want to take a simple situation and turn it into a complicated procedure in order to justify charging exorbitant prices. Now when I say simple, my intent is not to down play the gravity of the situation. What I am saying is that the situation can be remedied in a straightforward and uncomplicated way that makes the process easy and affordable for everyone involved.
The goal of our company is simple. Help you reclaim your home and the valuables that may have been lost in it. Period. Everything of minimal monetary value gets removed and disposed of. Everything else gets put aside for you to keep. Some clients choose to have us do a complete hoarding trash out which means everything goes. In that event, we still set aside items that could be of value. Then, you decide if they should be tossed out or if you'd like to keep them at point.
As hoarding jobs can be sensitive situations, I like to personally oversee every single hoarding project that we perform. Your thoughts, feelings and concerns are my number one priority. While we cannot have you in close proximity to our crew while we are working due to liability issues, we are happy to honor all reasonable requests as far as how you want the job handled. We are also mindful of your neighbors throughout the process.
Speaking of neighbors, If you are feeling embarrassed by the situation and would rather not have curious neighbors hovering around while the clean out is taking place, we can arrange for an after hours clean out, in which case most of the work is performed between the hours of 8pm-8am. Also, unlike most of our competitors, our trucks do not have signage that says 1800-JUNK SOMETHING. Rather, they simply say EarthWise Hauling. Our clients appreciate not having an ugly junk truck or dumpster in the driveway.
There are many more reasons why EarthWise Hauling is the best choice for your hoarding clean up project, but the number one reason why we are the best, is because we care. We care about you, your safety, your health, and your home.
If you or a loved one has been dealing with a hoarding situation, please take advantage of our free on-site walk-through. I will personally come to the home at a time that is convenient for you. Once there, I will assess the situation and give you a flat rate quote for the entire project.
Receive an Online Booking Discount of $90!
Along with standard junk hauling, EarthWise also offers dense debris hauling. If you need assistance with removing dirt, concrete, sand, bricks, boulders, drywall, tile or stone, we've got you covered! Our team of strong spines will scoop, shovel and wheelbarrow all that heavy stuff so that you don't have to. Dense debris pricing is very fair. We only charge $55 per wheelbarrow and that price is all inclusive. No taxes, dump fees or surcharges.
It's important to remember that the final price of your removal job is always determined once we are on location.
After our trained and experienced removal technicians give you an estimated load size based on what they see in person, they will load up quickly and efficiently. Our pricing always includes all taxes and disposal fees. After the truck is all loaded up, the team will sweep up. You only pay us once your job is complete!
LOW ON CASH? NEED A CONTACTLESS TRANSACTION? NO PROBLEM! WE ACCEPT ALL MAJOR CREDIT CARDS WITH NO EXTRA FEES. WE CAN SWIPE YOUR CARD IN PERSON OR EMAIL YOU AN INVOICE THAT CAN BE PAID ONLINE.

Hidden Fees?…
Don't you hate the old bait and switch sales tactic? Us too! That's why we don't hide our extra fees!
You should expect to pay extra if:
1. You require our team to dismantle or demo items for you prior to loading or if there are small items and loose trash that we need to gather up and load into bags or boxes before loading onto our truck. This would incur a labor charge.
2. You have a specialty item that is unusually heavy or awkward, such as a piano, safe, or hot tub. This would incur either a "dense material" charge or a "hard to handle" charge.
Don't Just Take Our Word For It!
Wondering if we can handle your job?
Here are a few things we've removed…
250 LB Commercial Freezer (with our eyes closed) – Cost For Removal: $220
375 LB Cast Iron Bathtub (a good warm up) – Cost For Removal: $250
525 LB Tall Upright Piano (is this considered heavy lifting?) – Cost for Removal: $275
800 LB Hot Tub (now that was a good work out) – Cost For Removal: $600
950 LB Fire Safe (OK, now we're just bragging) – Cost For Removal: $250
1700 LB Camper Shell (Is there anything we can't haul?) – Cost For Removal: $1500
Remember, we are removal professionals, not the guy down the street with a pick-up truck! We can handle whatever you can throw at us!
Items that can be re-purposed or recycled:
Appliances
Water heaters
All types of metal
Wood
Concrete
Asphalt
Dirt
Green waste
E-Waste
Furniture
Clothes
Household goods
Toys
Building materials
Computers
How is EarthWise Hauling Eco-Friendly?
We have not dumped at a landfill in over 9 years!
We recycle up to 100% of your junk! We accomplish this by hand sorting your unwanted goods in our warehouse facility. We then take various types of materials to the proper recycling facilities and donation centers. In fact, we even have our own EarthWise Second-Hand store in the City of Orange! This enables us to repurpose tons of "junk" that would've otherwise not have been able to see new life.
What about our trucks?
What good is recycling when the truck that's doing it is pumping out pollutants all day? That's what we thought too! As of March 2015 we switched over to Natural Gas powered trucks. We are the only junk removal service in California with clean burning CNG trucks. This is just another way we strive to reduce our carbon footprint, even as we drive between customers and recycling centers.
Over the last 10 years, EarthWise Hauling has diverted over 10,000,000 lbs of waste from Orange County landfills!