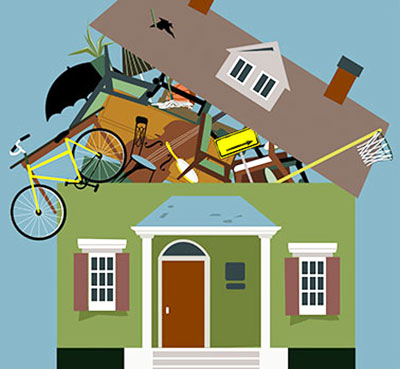 I know from personal experience how debilitating hoarding can be. I'm Joe, and I'm the owner of EarthWise. Caring for a very dear loved one who struggled with hoarding taught me a lot about how to handle these types of situations. No matter how bad you think your situation is, it is not hopeless! EarthWise can help.
Please believe me when I tell you that you have no reason to be embarrassed and please trust me when I say we have seen it all.
There are many companies who claim to be "hoarding experts". I'm not going to say that they aren't, but I will say that many companies want to take a simple situation and turn it into a complicated procedure in order to justify charging exorbitant prices. Now when I say simple, my intent is not to down play the gravity of the situation. What I am saying is that the situation can be remedied in a straightforward and uncomplicated way that makes the process easy and affordable for everyone involved.
The goal of our company is simple. Help you reclaim your home and the valuables that may have been lost in it. Period. Everything of minimal monetary value gets removed and disposed of. Everything else gets put aside for you to keep. Some clients choose to have us do a complete hoarding trash out which means everything goes. In that event, we still set aside items that could be of value. Then, you decide if they should be tossed out or if you'd like to keep them at point.
As hoarding jobs can be sensitive situations, I like to personally oversee every single hoarding project that we perform. Your thoughts, feelings and concerns are my number one priority. While we cannot have you in close proximity to our crew while we are working due to liability issues, we are happy to honor all reasonable requests as far as how you want the job handled. We are also mindful of your neighbors throughout the process.
Speaking of neighbors, If you are feeling embarrassed by the situation and would rather not have curious neighbors hovering around while the clean out is taking place, we can arrange for an after hours clean out, in which case most of the work is performed between the hours of 8pm-8am. Also, unlike most of our competitors, our trucks do not have signage that says 1800-JUNK SOMETHING. Rather, they simply say EarthWise Hauling. Our clients appreciate not having an ugly junk truck or dumpster in the driveway.
There and many more reasons why EarthWise Hauling is the best choice for your hoarding clean up project, but the number one reason why we are the best, is because we care. We care about you, your safety, your health, and your home.
If you or a loved one has been dealing with a hoarding situation, please take advantage of our free on-site walk-through. I will personally come to the home at a time that is convenient for you. Once there, I will assess the situation and give you a flat rate quote for the entire project.
Please give us a call at 714-230-6343